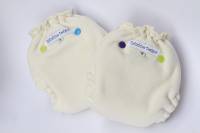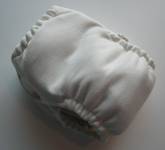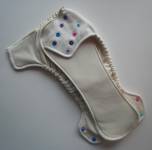 Click on any Picture to see a Larger Picture!



Feedback from our users on this product

Thank goodness for this diaper, I have tried every fitted I can get my hands on for my son. He is 9 months old and is now a tummy sleeper and a heavy wetter.. we do use interlock wool for nights, but sometimes his diaper is SOO soaked that the wool is super saturated. This has been a godsend.



Awesome! Got this for my 2 month old who is VERY sensitive to moisture and susceptive to rashes with cloth. First night we woke up and the diaper felt COMPLETELY dry inside, despite nursing and peeing through the night. This is exactly what we were wanting for her. No irritation, works perfectly. And it had only been washed once prior. This diaper is very well built and I know when she is older will be able to hold a mother load of soak. Thanks for a great diaper!



Amazing absorbancy, fantastic fit and they are so well made they still manage to be cute even though they are plain. The multicoloured snaps are a nice touch too!



This the absolute, hands down, best night time fitted diaper we have ever used! My son is almost 2 and has recently become a heavy wetter. This diaper was barely damp on outside after 10 hours! You won't be disappointed with this diaper, it really does what it says it will!


© 2008, rainshinedesigns.com
All Rights Reserved